Cedar Grove Employee Spotlight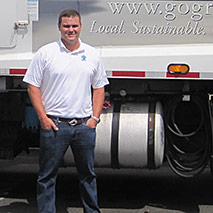 "I wouldn't want to do anything else and I enjoy going to work every day."
Stephan Banchero III
Stephan Banchero, General Manager of Cedar Grove Composting, is the third generation of a family business, grandson of the founder and son of the president and chief executive officer.

Banchero III started his career at Cedar Grove sweeping floors, driving bulldozers and working in the field as he worked his way into sales and operations. He launched the first commercial organics (food and compostables) hauling routes in the Puget Sound region, founding a brand new division for Cedar Grove. Along with his team, Banchero III innovated and created efficient commercial collection routes throughout the Puget Sound region, partnering with individual businesses and helping them manage their waste stream and increase recycling.

Cedar Grove's hauling division now serves 2,500 businesses participating in food waste recycling. As the principal composting facility in King and Snohomish Counties, Cedar Grove partners with local government, communities, and non-profits collectively working with them to divert 75,000 tons of organic waste from landfills each year. With Banchero III's guidance and management, Cedar Grove works as a global leader in waste reduction recognized for its state of the art technology, often hosting delegations from around the world for facility tours.

Banchero III tirelessly focuses on innovation and the company is committed to investing in the latest technology to continue to simplify the waste stream and reach a goal of zero waste.

Banchero III is also an active participant in the creation of the Green Sports Alliance a joint effort that includes the Mariners, Seahawks, Boeing Classic and other sports venues in the region to help reduce their overall waste stream to less than 15 percent landfill material.

Off the job, his love of sports carries over to the golf course, softball field (go Cedar Grove Composters!) and late night ping pong competitions with co-workers. You'll also find him in his garden, where Cedar Grove compost helps him grow super beefsteak tomatoes from starts provided by his grandpa. As new parents, Banchero III and his wife look forward to raising their child in a world that continues to be made better by the company their family started in 1938.